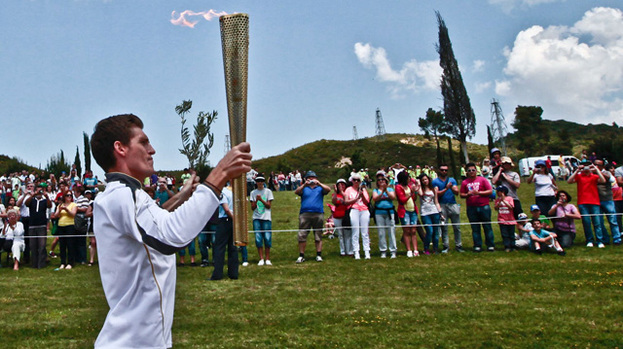 Ah, only a couple of months until the Olympics in London, during which we can:
Marvel at the vast amount of Scottish taxpayer money being wasted on a spectacle that's ludicrously overpriced and spiritually corrupt.
Watch on in wonder as youngsters achieves their dreams, while realising that we can't succeed in any greater ambition than getting blootered in the local park on the one good day of sunshine that this summer promises us.
Admire their finely honed physiques while bingeing on Tunnock's Tea Cakes, later contemplating whether it's best just to roll off the sofa and crawl to bed, rather than attempt the monumental physical feat of standing up and walking all the way.
Gaze warm-heartedly at the viddy box as Prime Minister David Cameron, London Mayor Boris Johnson and the Queen lap up no-expenses-spare high-class hospitality, while elsewhere spending cuts mean those on welfare can barely afford to feed or clothe themselves.
Those are only a few of the mouth-watering viewing options available to us, but hopefully you get the gist.
The Olympics were supposed to be something aspirational, but since when have any of us – other than an extremely select minority – thought those medals so triumphantly held aloft in any way attainable for ourselves?
Long ago the main prizes became the preserve of a physical elite, as much of the top tier of sport is nowadays. How can we use the event to tell children they can be whatever they want to be, when they don't stand a cat in hell's chance of even qualifying for the most widely watched events unless they are tall and lithe enough to practically leap buildings in a single bound?
At a time when people's dreams are being swiped from them by a faltering economy and bumbling politicians and economists – losing their jobs, or facing wage cuts, or seeing their dream vocation become nothing more than a nightmarish improbability – it seems a kick in the face for the Olympic flame received by the London 2012 delegation in Athens yesterday to be taken over to these shores.
David Beckham and co are flying the torch over to the UK today. Apparently us normal punters can't take toothpaste on board a plane, but a massive flame is AOK in barmy Britain. (Not really though, as apparently on flights the flame is extinguished but kept 'alive' in a lantern or something, which doesn't really seem the point to me.)
At that point it'll start a snaking journey that aims to take it within "10 miles of 95% of people in the UK, Isle of Man, Guernsey and Jersey". Ah, how great it'll be to tell the grandkids that I once had an oversized pointy torch waved around within a mere 10 miles of where I was – "I didn't see it because I had a massive hangover and couldn't be bothered going to see it, but it was definitely there" – as they stare at me blankly and wonder how boring my life must have been for that to count as a highlight.
But here's a thought: when it comes on its merry way to Scotland in a few weeks, why don't we just symbolically stop it in its tracks? After all, how insulting for our self-anointed superiors to assume we're as dazzled by big bright shiny objects as the average two-year-old, and be distracted for more than a moment from the mess that our country finds itself in.
It's a flame for goodness' sake – at least Pippa Middleton in a figure-hugging dress can turn around and say hello, or tell you some inane titbits from her upcoming party-planning tome. It's supposed to stand for peace, unity and friendship, but countries spend millions fighting over its destiny, and the Olympics' competitive spirit appears at times to be about anything other than those ideals it purportedly exists to espouse. (With the fringe benefit of lining committee members' pockets.)
Actually, those ideals don't really even tally with those of Scotland's sports fans, who seem far more likely to take a pop at the English chances of winning Euro 2012, or moan about having a world-class tennis player because he doesn't quite measure up to a few of the best of all time, or wish the destruction of one of our most highly decorated football clubs simply because we don't like very much, or otherwise just snipe incessantly about subject matters that were supposed to be a diversion from proper real world problems. Whether or not we deserve it, or it deserves us, for the moment the Olympic flame is best off staying well away from Scotland.
MORE DEVIL'S ADVOCATE
More About Devil's Advocate
People who read this story also read