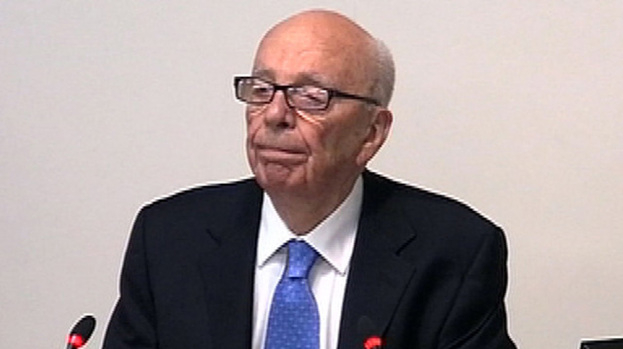 You might have thought getting splattered in the face by a pie might have earned Rupert Murdoch immunity from ever again being harassed by busybodies, but no, not even close. The poor old sod was this week dragged back to the UK by the cruel Baron Leveson to spend TWO WHOLE DAYS (well, kind of) being quizzed about lots of things that he probably wouldn't remember much about, and a few things that he might.
Basically it was a chance to harangue the News Corp chairman and chief executive for doing the sorts of things that he should be applauded for. (Even though he didn't do them.) He reportedly admitted that there had been a cover-up when it came to the subject of phone hacking at the News of the World, though he specifically didn't say that he had anything to do with it. (Because obviously he didn't.)
To me that seems like a shame, because a cover-up is exactly what he should have done under the circumstance, and I for one would have applauded his hugely ethical actions if he had indeed tried to lie and cheat his way out of admitting the truth. (Something which he wouldn't possibly envisaged, of course.) Indeed, it would have been the most moral way for him to behave, had he chosen to do so (which in no way would he have).
After all, as the ultimate boss of the News of the World, he should have been the one best expected to protect the interests of the workforce. Was he supposed to let those who slogged away so hard for the benefit of the super-soaraway Sunday tabloid be left at the mercy of the authorities and politicians?
Of course not. If he had indeed been properly aware of all that was going on at one of his flagship newspapers (which he wasn't), he would have realised the extent of police corruption, thanks to NotW reporters bribing offices on other matters of 'public interest' – obviously also cleverly illustrating how little the boys in blue could be trusted. How could Murdoch expect his employees to face justice when those employees had proved how little justice could be trusted by slipping it a sly fiver beforehand? No boss worth his salt could possibly allow such a heinous scenario.
The same goes with politicians. Given that he might be able to sway political favour through threats of switching the allegiance of his many publications (not that he ever actually did, or even considered such a wacky ploy), how on earth would he be able to put his faith in inquiries and committees helmed by those who might also be so easily influenced, had he ever tried to influence them? (Which he never would have.)
I mean, it's just as well Murdoch definitely didn't meet Culture Secretary Jeremy Hunt, who was put in charge of deciding on News Corp's bid for BSkyB – because if Murdoch had, and his heft had forced Hunt into trying to let the whole takeover slip through, imagine how disillusioned he'd have been in the political system then! He might even have told his newspaper's editors not to bother backing anyone for the next round of elections. (Not that he'd influence that sort of thing either, mind you.)
But, given that some of the News of the World staff had fearlessly shown what lying wretches our celebs and sports stars are – as well as publically exposing the private diary of a mother of a missing child, etc etc – to try and increase sales of the paper (and give themselves a nice little salary boost), he would have been absolutely correct to try and support those who had so steadfastly supported him. In doing so he should have used any means necessary, just as they had for him.
It almost makes you feel sorry that he wasn't a good enough News Corp chairman and chief executive to have known what was going on then been able to instigate a cover-up (which he definitely didn't), making him naively incompetent rather than the sort of evil super-genius that I guess he was never intelligent or cunning enough to have been. Imagine how glorious that would have been, Rupert! Instead people are now predicting that you'll be unceremoniously shuffled off into retirement, which is really no way for a man of your standing to go.
It's not too late though – you could always barge back into the Leveson inquiry on Monday, and claim that you knew about it all along and actually orchestrated the entire cover-up from its very inception. Brilliant! Nobody would believe you capable, of course, but better to go out with a bang than with such a pathetic whimper.
AND FROM DEVIL'S ADVOCATE
More About Devil's Advocate