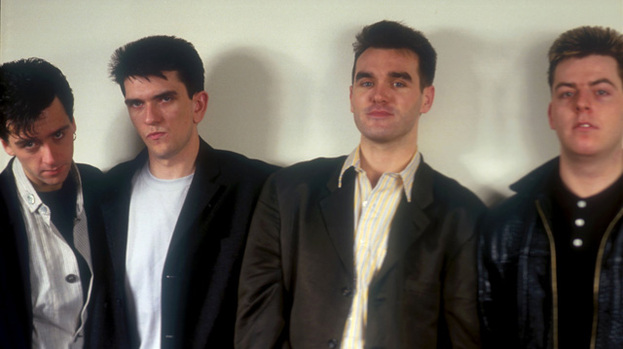 It wasn't exactly for the first time that the Twittersphere and the Facebooksphere, etc, were all talk about the possibility of The Smiths getting back together. (Ignoring the rather flimsy nature of the source.) But this time, after a website to remain nameless reported it, the rumours grew stronger than ever.
After a flurry of excited outpourings across the internet, guitarist Johnny Marr took to his Facebook page this lunchtime to simply state: "The rumour of the Smiths reunion is untrue. It's not happening."
That won't stop the rumours though – after all, guitarist John Squire of fellow Mancunian outfit firmly said a couple of years back: "I have no desire whatsoever to desecrate the grave of seminal Manchester pop group The Stone Roses." (By the way tickets are still available for T in the Park, should you wish to see Squire dancing a merry jig over the seminal band's resting place this July.)
Whatever case was and still may be, is it possible to stop any talk of The Smiths – or any other long deceased outfit – 'reforming'? It provides the wrong impression, that of the band back just as they were in their heyday, Morrissey's cheekbones cutting a swath through the air as his jet-black quiff bobbles about imperiously.
When bands like these finally muddle back together, it should be talked of as a 'deformation' where artists starved by a lack of success – and in the case of Morrissey becoming ever more unlikeable even by his most ardent fans – charmlessly resuscitate their group's corpse, despite it having long since spoiled due to years (or even decades) worth of neglect.
They may still stand head and shoulders above today's younger pretenders, and perhaps that in itself makes these desiccated comebacks worthy of our attention. After all, it would be churlish to deny that most of those who would go to see The Smiths in 2012 would have a brilliant time. (Were it to happen which it most certainly IS NOT, thank you very much.)
But let's not pretend that it will be anything like it used to be. That's evident enough thanks to bands like The Rolling Stones and Black Sabbath, where illness makes it increasingly difficult for the members to struggle on to the stage, never mind go at anything approaching full tilt.
The 'younger' impression are much the same. I loved Blur at T in the Park in 2009, but common consensus was that their BRITs performance earlier this year was a bit of an embarrassment, middle-aged men hobbling through a back catalogue of disarmingly youthful anthems. And with another Mancunian group who got back together, Happy Mondays, it's been reported that their iconic dancer Bez won't, uh, actually be dancing because age has caught up with him.
That's probably part of the appeal, mind you. The main reason for wanting to go see these acts might be blindingly obvious (nostalgia), but a large part of the appeal of these reunions might also be to see our stars having faded almost beyond recognition. They burned brighter than we could, therefore how edifying to see their flame somewhat extinguished, while we console ourselves with the still-fresh memories of yesterday. It's a pretty morbid thought to end an article with, but given the subject matter of The Smiths, it also feels entirely fitting. So with that in mind, fingers crossed and all that...