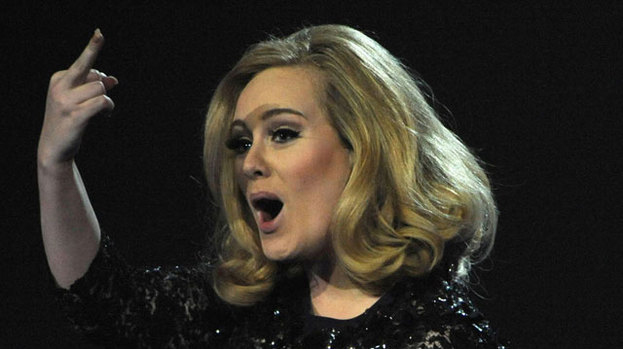 Ah, the BRIT Awards. Given the slump in sales of music, can somebody remind me why it is that we continually tolerate them year after year?
All and sundry appear to be up in arms when the Royal Bank of Scotland awards a swathe of bonuses to its staff, and perhaps rightly so. But record labels throw a live televised party to celebrate their gumbo artists – who, incidentally, are shifting less units than ever – and we're supposed to tune in, enthralled that Noel Gallagher has managed to equip himself with an outfit duller than Oasis were? (At least in the latter days of their march into sonic senility.)
Well, more fool us, for millions did earlier in the week. I guess it was because they were either eager to find out who would get their hands on the main awards, or simply curious to see whether Rihanna would finally throw caution to the wind and simulate rutting a deer live on stage in lieu of putting on anything that might be considered a musical performance rather than desperate exhibitionism.
In the end, the winners were just as predictable as anybody would have expected – perhaps because they deserved their moments of glory? And when the list of those successful includes Bruno Mars, Ed Sheeran, Coldplay and One Direction, I guess you have to admit 2012 has absolutely definitely been the most memorable year for music since The Beatles split up, or at least since The Bravery were last in the Top 40.
And just at the climax of the ceremony was Best British Album. Some might consider this the most prestigious award of the night. (which, given that it was the BRITs, is a bit like getting your hands on the most pretsigious gong at the monthly awards for a dilapidated office supply centre, its ceremony held in the printer room and so lacking in importance that it's been snubbed by the office janitor who was supposed to be collecting the Lifetime Achievement Award).
As it turned out it was Adele who won the award for 21, and up she stepped to give her acceptance speech before Britpop legends Blur received the Outstanding Contribution to Music Award. (Ironically, they almost entirely reversed the effects of that "outstanding contribution" through a paunchy, wheezy medley performance of energetic early classics that felt about as respectful as Jedward releasing a Dubstep version of I Will Always Love You to commemorate the passing of Whitney Houston.)
I would have said that Adele had "gracefully" given her speech, except no, of course she hadn't. Organisers had cut her time onstage so that they could properly finish the show in the manner intended, and instead of taking their ham-fisted attempt at punctuality in good humour, she responded by giving the middle-finger in a display of such petulance that she may as well have poked her head out of the TV to puke upon every single viewer in the country and around the world. (Goodness only knows if Britain's previously untarnished reputation can recover in time for the Olympics.)
In doing so she may as well have gobbed on the face of all those who had taken the trouble to purchase her phenomenally successful second album in the past year since its release, which in that period has broken all sorts of records and was bought by someone every 0.45 milliseconds in 2011 and is even owned by the vast majority of domesticated pets in the UK (excluding chinchillas), and reputedly had the Queen use the CD case as a drinks coaster at Buckingham Palace in what, when you think about it, must surely be the highest compliment in the land apart from were Her Majesty to ask you for a game of hopscotch.
What exactly was the point of Adele throwing a hissy fit, merely because her "moment" had been taken away from her? What a drama queen - she's sold about 10 gazillion records and received acclaim from every corner of the globe, and has been held up as a role model and adored beyond any form of rationality when the subject is a creature of flesh and blood. (You would have thought the fates of Michael Jackson, Elvis Presley, Whitney, etc would have made us more recalcitrant to indulge in such idolatory...)
Most in the UK are still reeling from the economic slump, the purse strings drawn tighter than ever, every penny being counted. Does Adele really think it's appropriate for a newly minted multimillionaire to throw a diva strop live on TV less than a couple of minutes after receiving one of the most coveted awards that can be attained by those in her profession?
It's not as though Adele's done anything of truly great significance. She didn't discover a revolutionary cure for hiccups, hatch a blueprint to bring the Edinburgh Tram System back under budget and on time, or invent the hoverboard. Goodness, in providing nothing more than broadly palatable - if extremely well delivered - pop-soul music it's not even as though Adele has taken our minds off more mundane matters through the sort of ridiculously outrébehaviour that Lady GaGa and Nicki Minaj excel in.
Given that he looked like a down-on-his-luck supply teacher during his band's appearance, you wouldn't have been surprised to see Blur frontman Damon Albarn give her a rap on the knuckles with a wooden ruler for acting out so publically, but – given that that almost definitely didn't happen backstage afterwards – Adele needs to receive some sort of punishment for her behaviour. Perhaps a squirmingly awkward duet of I Got You Babe for Crazy Frog's long-awaited comeback? Should we bar her from singing the theme for the next James Bond movie – as has been widely anticipated –and force her to do the next Johnny English effort instead? There has to be some other options as well, and if any might help her go back to being as cheerily personable and down to earth as people apparently loved her for being, then everybody will be the winner. (Well, unless it's the Crazy Frog option.)
MORE FROM DEVIL'S ADVOCATE
More About Devil's Advocate