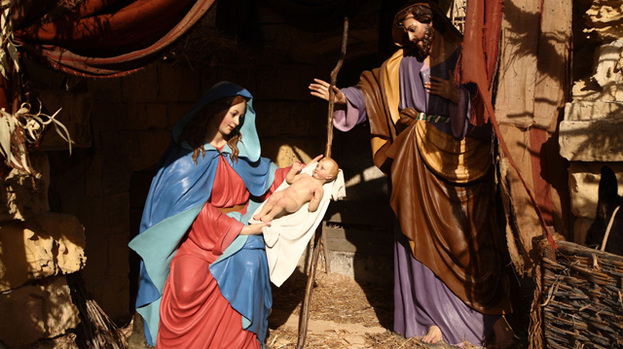 There may technically still be a month to go, but it already feels like Christmas is already upon us. There seems to be as many people moaning about its presence as there are people celebrating it, but then that's just one reason why we finally need to get a grip on the whole sorry situation.
Nobody seems able or willing to maintain a grip on what the festival was supposed to be all about. Shopping stores have tried to usurp the primary message through expensive adverts, though unfortunately no percentage of the budgets appear to have been allocated to purchasing some common sense.
John Lewis with its latest soppy effort reason tries to pretend that the best part of Christmas is the giving of presents – how quaint! (Personally the main emotion prevalent in present-giving is usually fear, as I worry that the recipient shall realise I've just repackaged the very same unused soap and deodorant gift pack that they gave to me the previous year).
M&S wheels out the current crop of X Factor contestants; entrants from a show that's not only destroyed the listenability of the music charts at the end of the year, but also rendered many Christmas classics completely unlistenable thanks to mawkish Auto-tuned renditions that can drain the festive cheer from a room in record time.
On the day itself fewer and fewer people bother to watch the Queen's Christmas message, especially now that TV on demand offers so many superior alternatives. (Not hard when watching an orange bobbing on a toothpick is preferable to Lizzy's joyless drone about the ins and outs of another unremittingly mediocre year on the throne.) And as for going to church, it's now a minority sport for those too perverse to go savour a pint or two in the pub, a place of worship where salvation is markedly more attainable.
Christmas has come apart at the seams. Given that the Christians themselves nicked the date for this day of 'celebration' from other ancient winter festivals, now that they've let the whole thing go to pot isn't it only right that we reclaim it as an act of charity?
This is the 21st Century after all, and if we're letting capitalism run rampant through our public services then the least we can do is let the highly accomplished business experts also give Christmas a well needed makeover while they're at it. So how do we start?
Firstly, we should place somebody such as Donald Trump in charge. He's pretty much single-handedly saved the Scottish economy by granting our nation the gift of a "golf course" – strangers as we were to the concept before – so renaming and rebranding Christmas shouldn't be too tough a task for the heroic grafter.
Trump is also an ideal choice since he's all about "money money money", and that's all Christmas has really been about for as long as memory allows, the news obsessed at this time of year in its tracking of how high street stores are doing at this time of year. Forget homelessness in the bitter cold or the elderly having heating allowances slashed, how much cash are those tills raking in? (Pretty soon rolling news channels will be cutting to live feeds of cameras stationed directly over the counters.)
Taking inspiration from the top tier of competitive sports – where clubs have been selling their dignity by allowing stadiums to be renamed – the name for December 25th's festival could be bought by the highest bidder. (Though it'd only be right that for one year we call it Trump Day, which should allow us a small titter while also paying tribute to the masterful tycoon.)
We can also auction off the official lunchtime meal – the kids will be delighted to have McDonald's or Greggs rather than nasty old Brussels sprouts – as well as anything else vaguely connected to the event, such as crackers, the tipple of choice, etc. Perhaps Bill Gates can pay enough to become Santa Claus for the day, flying around the world in a golden private jet and shooting out trial copies of Windows 8 through a customised cannon.
The vast profit that this genius plan will generate would be a blessed relief right now. If the poor and the sick are suffering as a result of cuts, wouldn't a present-day Jesus sacrifice his birthday for the greater good? If you think about it, it's what He'd want, and it seems pretty cruel to deny the Son of God this one simple wish on his birthday. What better present could there be? Now that is the spirit of Christmas for you.
MORE FROM DEVIL'S ADVOCATE
More About Devil's Advocate