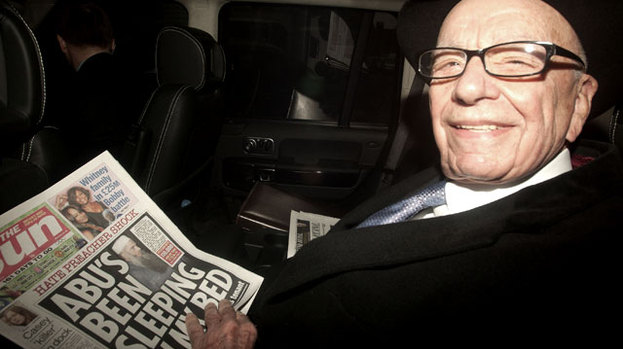 Devil's Advocate is a regular column assuming an alternate viewpoint on a topical subject of the week.
Were you, like the vast majority of the Great British Public, barely able to sleep these past few months, so stricken with fear were you over the prospect of Rupert Murdoch not being able to say whatever the hell he wants in his UK newspapers?
Well, fret not, for a fearless, entirely objective posse of press owners – with Murdoch's publications featuring prominently – have rebuffed the government's plans for press regulation, and decided to try and set up its own royal charter-backed body instead.
By doing so this means that papers such as The Sun and The Times are almost certainly failing to reflect the opinion of their readers following the phone-hacking scandal, given that some three-quarters of the public wanted the government to implement Lord Justice Leveson's recommendations for a new form of press regulation.
None of the papers who yesterday proposed their own scheme seemed to report that poll when it was published earlier this year, oddly enough, never mind discuss the fact that their editorial standpoint stands fiercely opposed to the views of the vast majority of the UK population.
Mind you, if we let the public have what they want when just 74% of them express a desire for it, who knows what sort of chaos could ensue? Nobody knows, which is why a cautious approach is obviously best, with the press not even letting the public know what they want – presumably in case they get ideas above their station and suddenly think they are in charge.
What newspaper publishers long ago realised is that the hallowed "freedom of the press" is a very different thing to freedom of knowledge for the public – and that, if we want to maintain those lofty standards of the venerable British press which made Katie Price a megastar, celebrated the deaths of a few hundred Argentines and blamed innocent football fans for the Hillsborough disaster, then the latter must sometimes be suppressed in the interests of the former. (And the former is more important, obviously, since more monetary value can be attached to it – and which billionaire can't do with another pay-day extension?)
With online social networks allowing the opportunity for any member of the public to directly communicate whatever they so choose to a potential mass audience – rather than have to ask billionaire-owned publications whether they may kindly be allowed to have their words twisted and distorted for dissemination – there is a legitimate question as to what the press can accomplish nowadays.
And thankfully the press have now answered this unequivocally, by affording themselves a renewed chance to go on for months and months about their own self-importance, while everyone else gets bored and carries on with their own business.
Because as much as they disliked Leveson, boy did they love the opportunity to spend a great big chunk of last year blathering on and on about how society is likely to crumble as soon as they become subject to a regulatory body not as entirely feckless as the current one. (Which still seems unable to fight its way out of a wet paper bag made out of NOTW Peter Andre centrefold spreads.)
Brilliantly, they kept on harping on about themselves even as circulations continue to plummet. Rather than subject themselves to the continued misery, former loyal customers quickly realised that they could find the information they were after without a self-interested middle man, one too busy examining its own belly-button fluff to pay any attention to what its remaining readership might want.
By rejecting a type of regulation that most people in the country wanted (as well as those dastardly politicians), the press can continue to assume the role of the victim, harassed on all sides and playing the martyr. Eventually there will be just the one newspaper employee left paying premium price for their own double-sided A4 pamphlet, a world exclusive feature about the brave perseverance of Britain's last proper journo.
It's not so much an ostrich sticking its head in the sand as a piece of sand sticking its head in the sand, then reporting about the other sand that's decided to stick its head in the sand, which has offered its unqualified backing to the other sand with its head in the sand. Or perhaps it's just the ostrich with its head up it's a***, examining its own digestive tract and continuing to be impressed by the quality of output despite a quickly shrinking marketplace.
While the press does this, and uses its decreasing resources to focus in on itself rather than on the subjects that interest any potential readership, then everyone else can move on to an age where public discourse isn't so easily dictated by the transparent self-interest of a bunch of rich, white, male geriatrics. Ultimately we'll all be better off for it – and for that reason you should take your hat off to the press again, as they will no doubt try to tell you.
More About Devil's Advocate
People who read this story also read