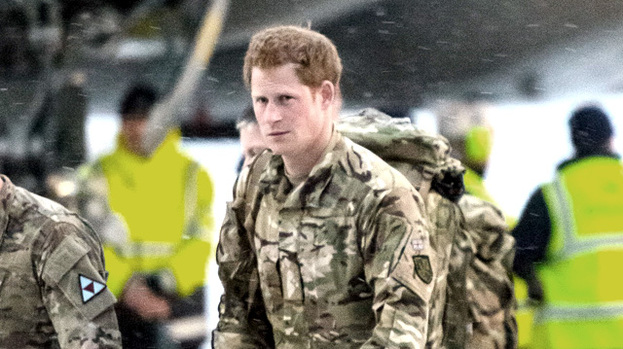 Devil's Advocate is a regular column assuming an alternate viewpoint on a topical subject of the week.
Once again, it's all about Harry.
The plucky young prince has this week returned from Afghanistan, where – in lieu of the military having the newest Call of Duty game – he had been fighting courageously, spreading our country's good name by killing some foreigners from a up on high in a helicopter. (Well, at least he won't be targeted by Peta for this one.)
Given that the showbiz world lacks derring-do it was quite the delight to have someone in the spotlight who might actually have a tale to tell – though of course the PR party-poopers soon stepped in to ensure that Harry's re-emergence on the UK A-list celeb circuit won't be full of bawdy stories about helicopter gun battles and festive Skype calls to dear Grand-ma-ma.
Even worse, it now appears that he will not be allowed to return to Afghanistan for some front-line action. How can Harry have some more jolly old romps to relay to Wills if he's stuck in the kitchen doling out soup to squaddies?
The news is a reminder that Harry isn't simply "one of the lads", much as he might like to think he is. The prince is special, deserving of a consideration above his supposed peers. Having chosen to embark on a career in the military, he already has a motivation in excess of those other young boys and girls who enter a career in the armed services simply because abject poverty has left them little other option to have a steady incoming wage. His choice is more clear, more willing, more honourable.
I guess it's that same distinctive motivation which explains the truly inspirational amount of medals that the likes of Prince Charles and others male relatives of Harry love to sport, and also accounts for the wonderful amount of charity work that the royal family manage to do over here in the UK.
It's for such reasons that there is nothing I personally would like better than to send the whole royal family off on a one-way ticket to Afghanistan, burning all their passports as they exit to ensure that they never return to our country again. (Not that the Queen actually needs one, of course.)
Oh goodness, how I would love that.
If the UK really is a 'giving' country – going to war all over the Middle East in order to effectively spread the wonderful virtues conferred on us by democracy, which means we can freely choose to do whatever the US tells us to – then the least we can do is selflessly give Afghanistan our greatest possible export.
Let's face it, the Royal Family have done more than enough good work over here, and – though the royal baby can perhaps become patron for some "breast is best" campaign – it's been diminishing returns for a number of years, hasn't it? They'll never have the impact that they had when the Queen was born and the royal family first started a hundred years ago or so.
But over in Afghanistan they can begin all over again. I bet the government over there would like nothing better than for Prince Charles to stick his oar into debates over which architectural carbuncles should replace the scores of buildings bombed to smithereens. He'll be in his element!
Meanwhile the genteel garden parties – invites handed out to the good, the great and those with the most sizeable pockets – will illustrate how well everyone can get along (so long as they are screened by security beforehand). Plus the development of William and Kate's kid – something that shall surely be pored over in minute details where she/he is raised – will provide a lovely diversion from grieving over the thousands of deaths that the war has caused over this past decade. Just imagine the headlines over which type of pencil case he/she will bring to the first day of school.
If there's one lesson for Afghanistan to learn from the UK, it's that any amount of tragedy can be soon forgotten about – by the media at least – by instead focussing on the pampered lives of those unburdened by the usual harsh glare of reality that life provides. Prince Harry just needs to steel himself for one more mission, bundle his unwitting family on to a five-star no-expenses-spared cargo plane to the Middle East, and it could be his greatest achievement to date.
More About Royal Family
Related articles