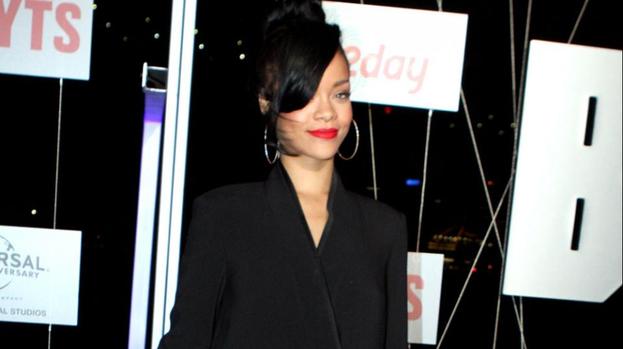 Musicians from Bowie to Rob Zombie have found it difficult to separate their personas with private lives, which just so happen to be played out in public.
Arguably popular music's biggest soap opera/tragedy/rubbernecker's delight of recent years has been the relationship (or perhaps "relationship") between Chris Brown and Rihanna. Formerly the MTV power couple, things ended horrendously in 2009 when Brown physically assaulted his girlfriend, putting her in hospital.
For a subject so obviously requiring the full smorgasbord of subtleties there have been few evident. The love triangle between Golden Girl, Bad Boy and Their Public was emphasised by horrific photos of her injuries, the openness with which the whole saga played out on Twitter, the subsequent will/they won't they stories, his beaten woman/Dia de los muerte tattoo and the subsequent (quite justifiable) vitriol aimed at him.
While Brown must be allowed some opportunity for repentance – our collective cultural history has absolved musicians from Ian Brown to Miles Davis from very public domestic abuse cases – equally he must live with what he's done; that stigma, the consequences of his actions, those images. His problem appears to be that he is unwilling to admit his culpability. Both parties have been treading a fine line between attempting to express their feelings over a very public incident, and almost twisting the ensuing furore for their own ends. While it almost (almost, more on this later) makes sense for Rihanna to offer her version of events, surely the only thing that the public needs to hear from Chris Brown is an admission of wrongdoing?
Instead we get chest-beating, bad-taste bravado like Don't Judge Me, released this week. For a man so obviously bothered by the public perception of him, Brown seems to have no inclination for his own spectacular foot-shooting abilities. Don't Judge Me? Metaphorically speaking, this is the equivalent of putting the public in a windowless room with only a giant red button that says DO NOT PRESS. What do you think we're going to do?
Rihanna has more than fair opportunity for rebuttal with the release of her Unapologetic album, also released this week. As Alexis Petridis pointed out, it's not an album that will change the public perception of her or The Incident, and it's full of uncomfortable subject matter. No doubt it occupies the tiny crossover group of knee-jerk "Think of the Children!" reactionaries and level-headed people who may have misgivings over their 12-year-old listening to their idol describe her love for her domestic abuser.
Further to that, it further muddies the waters by mixing notions of what might actually be her actual opinion and What Her Writers Want Us to Hear. In a less punishing schedule (21 singles and three albums since the Chris Brown incident) we might expect an artist to come back and address the elephant in the room with a venting of emotion. Here, Rihanna's troubled past is at best played as part of her Bad Girl narrative, at worst glamorised. Repeatedly. If we knew she was in charge of her own destiny here – and we really, really have to hope she is to some extent - we would at least have a consistent point of view to channel our gaze. Pop music hates an unreliable narrator. The fact that Brown shows up on this album, and released his own highly-loaded plea on the same day borders on bad taste. It's like Use Your Illusion: Victim and Abuser.
While the various members of Girls Aloud have spent most of the last few years pursuing their own interests, they have reunited for a ten-year anniversary album, like some sort of girl-group Constructicons, just in time for Christmas. While I'm neither the target market, nor revisionist enough to suggest that I "liked them at the time", I can understand the general consensus that as a package Girls Aloud were Very Good at Pop.
Something New doesn't quite work. As a selling point for the Greatest Hits album it'll do as wrapping for the presents inside, but this is Guetta-by-numbers. It's a polite reminder of their continued existence rather than a reason to justify its continuation, which all things considered, has to be up for review.
Still, at least there's a hint of some content there, which is more than you can say of The Vaccines; a paper thin box that contains a note which says "IOU some Britpopz". I Always Knew is the third single from their Come of Age album, and sounds like a marketing man's idea of what Arctic Monkeys would sound like if they were selling hair gel. It's pub rock for the wine-bar crowd.
The antithesis of this are The Heavy, who release Can't Play Dead this week. Taken from their third album, The Glorious Dead, it manages to channel both the groin-thrusting strut of The Dirtbombs and the appetites of Screamin' Jay Hawkins, without losing its guts to some particularly vigorous production.
Granted, this is swamp blues for the True Blood generation, but it doesn't lose anything in translation. While The Vaccines seem to exist solely to fill a perceived gap in the market for British Guitar Bands, it's unlikely that any focus group has ever suggested that what we need is more swamp rock. This is a labour of love with ideas above its station; ideas which might just materialise. Terrible band name, mind, but don't let that put you off.
Finally, Mogwai's A Wrenched Virile Lore was something that I approached with a small amount of suspicion. 2011's Hardcore Will Never Die But You Will was one of my favourite records of last year, indeed the last decade, and while a great remix (or "reimagining") can pull you in ways you didn't previously think possible, a bad one can forever infect your memory of what once was. I'm looking at you, Blur.
Any fears were misplaced. Leaving the reworkings (covers?) in the capable mitts of RM Hubbert, Zombi and Justin Broadrick, this is an album that doesn't just complement the originals, but stands alone as an original piece of work. Loving hands have taken HWNDBYW's jigsaw, cut the edges off, filed new ones, and pieced it back together to create a different beast altogether. Marvellous.
Related articles
People who read this story also read