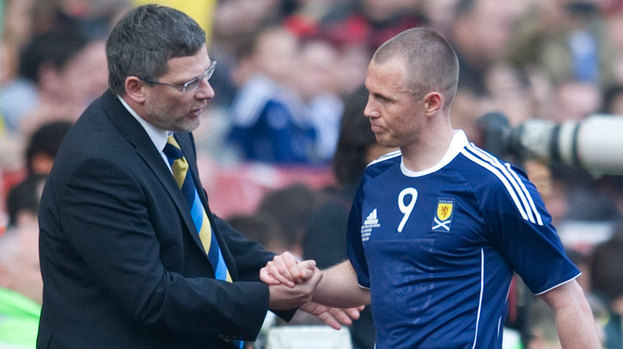 Devil's Advocate is a regular column assuming an alternate viewpoint on a topical subject of the week.
A sizeable amount of football fans are calling for Craig Levein's head after the manager helped Scotland magnificently fluff their opening two matches in the qualifying group for the World Cup 2014.
Not me, though. After his team's performance against footballing titans Serbia and Macedonia, I personally think that the happy-go-lucky gaffer ought to be given a Scottish knighthood by King Sean Connery (the former 007 giving one of his now legendary fist pumps to seal the deal), before straight after being awarded a lifelong contract for his sterling efforts so far.
As for the reasons why, where do I begin? Despite my elfin looks, I still remember the last time Scotland qualified for a major tournament (the World Cup in France in 1998). My recollection is mainly of busking on the bagpipes in Inverness before our match against Brazil, and getting one of my largest piping paydays ever (way in excess of what I get for writing this trash), thanks to the outpouring of fierce nationalism that preceded the expected, yet hard fought for, defeat.
As for the football itself, it has long since melted seamlessly into the rest of those Scotland campaigns I've been unfortunate enough to witness – an admirable amount of bravery against the big boys, terrible slip-ups again the minnows, and a heartbreaking "coulda woulda shoulda" story by the end, to help supporters summon up a romantic melancholy as they drink themselves into a stupor.
Well, now's the time to finally put a sock in it: Scotland as a nation has this summer moved way past these two-bit chancers that comprise our national football team (and its overall set-up for that matter), and we ought to take a collective decision to focus our energies elsewhere.
For far too long we've fallen for the self-perpetuated notion that we're a country full of bloody minded triers always destined to fall at the final hurdle, and that there's something more admirable about hard-luck stories than terrific tales of victory.
That mentality has to an extent cursed us, but haven't things shifted wonderfully over the past few months? Sir Chris Hoy, Katherine Grainger and Andy Murray were among the brilliant Scottish contingent at the Olympics taking home medals in a record haul, while Neil Fachie, Craig Maclean, and David Smith were just some of those doing us proud at the Paralympics.
Meanwhile Murray capped off a fantastic year so far by capturing his first Grand Slam at the US Open, and making himself a Scottish/British/European/world tennis legend in the process – a feat many thought beyond him due to his apparent negativity. (Which was regarded with a wearisome familiarity as a characteristic Scottish trait.)
So yes, let Levein cement the Scotland football team as minnows, so we can pay more attention to sports at which we actually excel right now. You know, rather than crossing our fingers that suddenly Kenny Miller will become a pasty faced Lionel Messi overnight, despite him being in his 30s and playing for a Canadian team.
It'll also help call to an end this phony myth that's been perpetuated whereby the Tartan Army are the best fans in the world ever. (This accolade generally awarded by Scottish fans or newspapers themselves.)
Anybody who wanders in Glasgow on match day will almost inevitably wander into some of that troupe staggering drunkenly about as though the city's there for them to rightfully trash as part of their pre- and/or post-match routine.
It matters little that these bozos don't know how to wear their cheap-kilt-cum-tartan-tablecloth properly, since half the time they seem to be hoiking it up to mark their territory in public, urinating merrily as though their repellent behaviour is all part of the fun. They may be a small minority of the national team's fan base, but they help sully our country by their very presence, and the gob-smacking way in which their behaviour is glossed over.
Good riddance to them, and good riddance to our chances of making the World Cup only to be inevitably knocked out in the first round – as we always were even when we were good enough to qualify for the main event. However much anyone might harp on about Dalglish or Johnstone or Souness or whoever, we were never up to the standard of champions, and we never will be – certainly not in our lifetimes anyway.
What's the alternative: to trudge onwards summoning up another make-believe glimmer of hope? Where's the joy in that? Where's the joy in calling for another manager's head because he can't do the impossible? Where's the joy in travelling to Hampden to see us scrape a draw against some other nation with a population dwarfed by the Isle of Skye? Where's the joy in contemplating a never-ending slurry of headlines about the usual abysmal performances? Let's do what the Scotland team will be forever unable to do, and succeed at pushing past mediocrity.
More About Devil's Advocate
Related articles
People who read this story also read