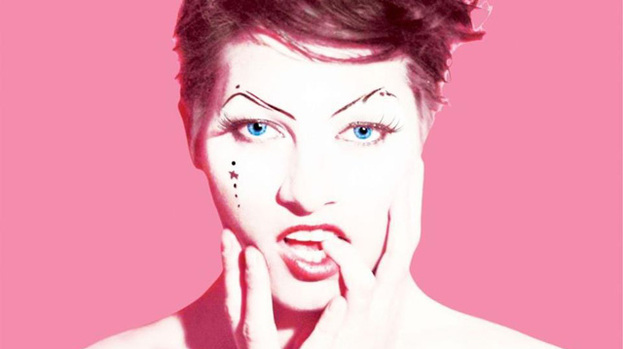 "The best things in life are free, particularly if they come on MP3" wasn't ever sung by Barrett Strong, The Beatles or Flying Lizards. But it should have been.
This week we've got another helping of great free music from around the internets, so lend us your ears so we can pour piping hot goodness into your brains.
Amanda Palmer and the Grand Theft Orchestra – Theatre is Evil Sampler
After winning her freedom from Roadrunner Records, goddess of Twitter, Amanda Palmer attempted the bold manoeuvre of raising funds for a new album by asking for donations from her fans. Supporters could pledge very small amounts for a download of the album (when it was finished) or those with slightly deeper pockets could effectively hire her to play in their living rooms. The aim was to raise the $250,000 needed to record and promote the new album. With the backing of her fans she broke that barrier in a matter of days, eventually getting $1.1m through pledges.
With the album set for release in a fortnight's time, we've got a sample of the fruits of her labour.
Harlem's ASAP Mob really are spoiling us with a full 18-track mix album available for absolutely nothing. It doesn't deviate too much from the style of head-honcho ASAP Rocky's debut, which is a good thing, and it features guest collaborations from Raekwon and Jim Jones. There's also a Knight Rider sample that won't make you cringe.
Big Business – Quadruple Single EP
This is technically a cheat, as you do have to spare a couple of dollars for the four tracks from Big Business. Still, it's worth every penny, particularly if you want to know what the sound of being punched by a Norse god is like.
In some ways this sounds exactly like you'd imagine a band from San Diego to sound like: sunny, upbeat, optimistic. There's also a distinct nod to post-punk Britannia and, stop me if I'm wrong, even a wee hint of an American Liam Gallagher in there. Think of Liam fronting the Dandy Warhols, if you really want a lazy comparison.
DIIV – Follow (Memory Tapes remix)
If the thought of Brooklyn-based shoegaze bands don't set off your hipster alarm too loudly, then this is well worth sticking with. The Memory Tapes remix takes the original and filters it through The Cure's Mixed Up, adding afrobeats and twinklings. Really rather lovely.
Slicing Up Eyeballs August mixtape
Slicing Up Eyeballs, with an obvious nod to the Pixies, is the best place for all things to do with 80s indie rock. With so many of the vintage returning, it's far more cutting edge than you might expect. The downloadable mix tapes are some of the best you'll find anywhere, genuinely like you got them from a wizened friend, and when it hosts some new stuff by Mission of Burma then you're really on to a winner.
This particular mix-tape really is amongst their best. PiL, Art Brut, The Beat, new Mission of Burma, Transvision Vamp, Porno for Pyros…
The Good Natured – She Drives me Crazy
Do the Fine Young Cannibals still count as a guilty pleasure, or has history got around to giving them their deserved place on the actually-pretty-cool-list? The Good Natured seem to think they deserve it, with a faithful version of the original with a couple of extra sugar lumps added. It is yours for the price of a tweet.
The Joy Formidable – Wolf's Law
Wales' The Joy Formidable are probably better known in the USA than they are in the UK, but after stealing the show at Reading/Leeds that should be all about to change. Wolf's Law is the first single from their upcoming second album.
The Orb and Lee "Scratch" Perry – Hold Me Upsetter
For anyone dabbling in electronic dub and wanting to learn from the masters, I give you The Orb and Lee Perry, who have recorded an album together, entitled The Orbserver in the Star House. Lee "Scratch" Perry is one of the single most influential and important figures in the history of pop music, creating sounds for Bob Marley, The Clash, The Beastie Boys, David Lynch, Mad Professor and The Heptones. The Orb aren't exactly unknowns either, pioneering all sorts of areas and genres in ambient electronic music.
Related articles