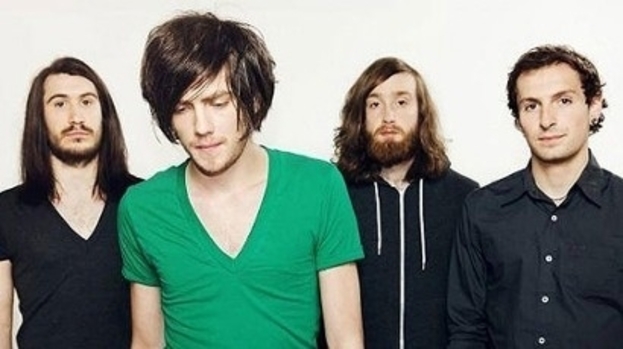 Following in the footsteps and beer trail of Miller beer, infamous Tennessee whiskey maker, Jack Daniels, have fused alcohol and music to bring JD Roots to three cities. Tonight was the turn of Glasgow, and for the black labelled whiskey to brew up some of their own dark magic, beginning with The Black Belles from Jack White's asylum of witchcraft and wizardry.

The three piece, on their maiden voyage to Scotland, are signed to Jack's label and hail from Nashville Tennessee, much like the world famous tipple that branded the show. Their Jack White connection comes as no surprise once they come on stage, producing barbed wire blues from the first raw strum of a guitar.

In black leather, velveteen and witch-style hats, the three piece have faces Tyra Banks would title "fierce", though they match this persona musically. Topped with a Southern drawl somewhere between Jemima Pearl and Karen O, the threesome are not a new concept, but they have plenty of appeal to keep the crowd under their spell.

Led largely by their rollicking drummer who resembles Meg White on fast forward, unconventional guitar licks are mixed with unhinged rockabilly blues and sweet and sultry tones.

Overall, there's a raw appeal that should see them win over audiences as they gain confidence this side of the pond.

The main act for tonight was the home grown Twin Atlantic, currently racing across mainstream airwaves on a daily basis. With their fans wedged firmly into the intimate venue, their homecoming was granted a hero's welcome, as they begin subtly, yet appropriately, for the occasion with Yes, I Was Drunk. Sending the crowd into immediate sing along, the four piece are relaxed onstage, lapping up the mass adoration.

With barely enough room for their combined shape pulling, it's clear that the boys, who graced King Tuts' modest stage many a time in their early years, have outgrown their roots. Lead singer Sam McTrusty is close to decapitation at one point in the set, when he mounts the crowd barrier, head pressed against the low ceiling of the venue.

Following the likes of Biffy Clyro and Frightened Rabbit, Twin Atlantic get the full-on Scottish glitterati treatment, with not a lyric missed from fans, who scream in unison with arms outreached for the duration. A mix of sweat-drenched boys, and screaming girls, the one thing fans have in common is wide smiles on their faces, regardless of whether these are induced musically, or by skinny jeans and beards.

With monstrous sound from the depth of their layered guitars and effects pedals, the emotionally charged pop rockers burst through their set. Largely focussing on their 2011 album, Free, Dreamember, Eight Days and Apocalyptic Renegade serve only as aperitifs for their singles.
With Edit Me fuelling the crowd to a new level of dedication, though maybe that was the complimentary Jack and Cokes all round, the band match the intensifying crowd, their delivery more frantic as their set of power angst-rock progressed to a man-hugging finish.