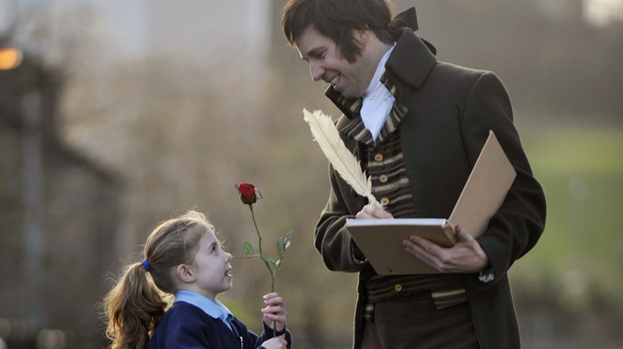 Pupils at a primary school in Glasgow were today joined by a tribute to Scotland's favourite son, Robert Burns, as they prepared to take to the stage for a unique performance at Celtic Connections.
For the past fortnight Primary 3 pupils at Parkview Primary School have been learning about the life and times of Robert Burns, exploring his poetry and songs in preparation for their performance at this year's Celtic Connections, as part of the festival's education concert series.
The EventScotland-funded initiative enables young people to learn about Scotland's traditions and background as well as introducing them to cultures from across the world.
On 25th January the musical pupils will take to the stage with the Celine Donoghue Band to perform a series of Robert Burns' songs.
Celine was a member of Scottish folk band Calasaig and has performed at high profile gigs across the globe, including the inaugural Burns Memorial Lecture given by Kofi Annan at the United Nations, New York in 2004.
Celtic Connections artistic director Donald Shaw said: "The Celtic Connections Education programme continues to go from strength to strength and we're immensely proud of the work we carry out.
"Schools from across Scotland have taken part in this initiative and for many children; this is their first taste of attending a concert.
"Over 170,000 children from all over have benefited from the education programme over the past 12 years and we look forward to its continued success."
Paul Bush OBE, chief operating officer for EventScotland, added: "Robert Burns is a hugely important part of Scotland's cultural heritage, and I have no doubt that the pupils taking to the stage during Celtic Connections will enjoy their celebration of his work.
"Scotland is the perfect stage for cultural events, and I am delighted at the continued success of Celtic Connections' education programme in giving young people a chance to experience traditions from Scotland and around the world."
The Celtic Connections Schools Concerts Celebration of Burns takes place at 11am on Wednesday 25th January, and is free for schools and home educators. For more information visit celticconnections.com.