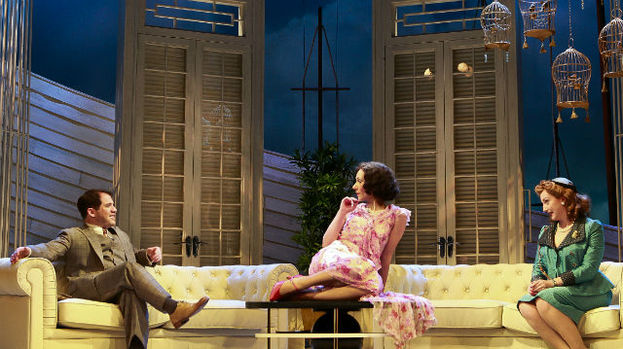 High Society is the musical version of The Philadelphia Story, the 1939 Broadway play Philip Barry wrote as a vehicle for Katherine Hepburn, and which became a movie a year later.
16 years later Hollywood decided to revisit the story, this time with music and lyrics by Cole Porter, for a screen musical starring Frank Sinatra, Bing Crosby and Grace Kelly.
Three decades later the circle was finally squared when High Society was adapted for the stage, opening at London's Victoria Palace with a cast headed by Trevor eve and the late Natasha production.
Hopefully the show fared better then, than it does here in this rather flat production from Music and Lyrics company directed by John Linstrum.
A romantic comedy about a wealthy socialite, Tracy Lord, (Sophie Bould), who finds herself surrounded by love struck suitors on all sides on the eve of her wedding- her suave, ex-husband Dexter Haven, played by Robin of Sherwood star Michael Praed; stuffed shirt fiancée, George Kitteridge (Keiron Crook); and Daniel Boys as good guy undercover reporter, Mike Connor- the show should fairly zing along and have plenty of pep.
But it rarely does here, although to be fair the second act picks up the pace.
By Porter's standards, carat gold show-stopping tunes are relatively thin on the ground, with the standouts being Who Wants To Be A Millionaire; True Love; and the irresistibly catchy,Well, Did You Evah? There's also a rousing rendition of Let's Misbehave, in which an ensemble of tap dancing servants brought real energy to the comedy.
As for the cast, like the swish revolve set, Praed is handsome to look at. But his singing leaves a lot to be desired and at times it seems a struggle for him to hold and hit his notes here. And while he looks debonair in a blazer, he lacks the mischievous, playboy charm needed for Dexter to woo back his ex and run rings round his rivals.
Elsewhere, the acting for the most part is perfunctory, although Bould grows on you as Tracy the longer the show goes on and strikes just the right skittish, comedic tone when Tracy gets drunk on champagne, loses her inhibitions and goes skinny-dipping with Connor.
She also fares best in the singing stakes alongside the excellent Alex Young as Connor's sassy, lovestruck, photographer sidekick Liz Imrie.
As Connor the one dimensional Boys could do with injecting more complexity into the character of artistically torn scandal sheet hack and would be writer, Connor, while Teddy Kempner gets plenty of laughs in the cameo lecherous comic fool Uncle Willy, But then again it would need a really bad actor not to.
High Society, Edinburgh festival Theatre, Edinburgh, until Saturday. Tel: 0131 529 6000