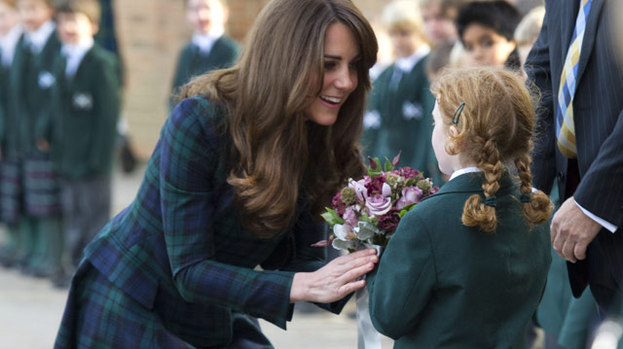 The first public glimpse of Kate Middleton's baby bump will be seen in two weeks when the Duchess of Cambridge visits her charity, Action on Addiction, on February 19.
The Duchess will be almost halfway through her pregnancy when she meets with staff and clients of the Hope House Treatment Centre in Clapham, London.
And this organised event is sure to attract lots of attention as it will be the first time the Duchess has been seen in public with her bump.
As Kate is a tall, slim woman, there is a chance that even at 19 to 20 weeks there will still be no visible sign of her pregnancy. Although the public will be hoping they can catch a glimpse of the future monarch.
Proud parents-to-be William and Kate are expecting their first child in July of this year.
Working through her pregnancy, Kate has made a recovery from the severe morning sickness she suffered in December last year. One of the world's most fashionable figures, she was spotted shopping for maternity wear in the London last week.
Royal aides have said Kate is "working behind the scenes" with her four chosen charities. Along with Action on Addiction, Kate is also the patron of East Anglia's Children's Hospices, The National Portrait Gallery and The Art Room.
Along with her continued commitment to her chosen organisations, she has stated her eagerness to volunteer with the Scouts. What a busy mum-to-be!
The Duchess will be making the visit to Hope House alone as her husband, Prince William, is currently on service duty at RAF Valley.
Related articles