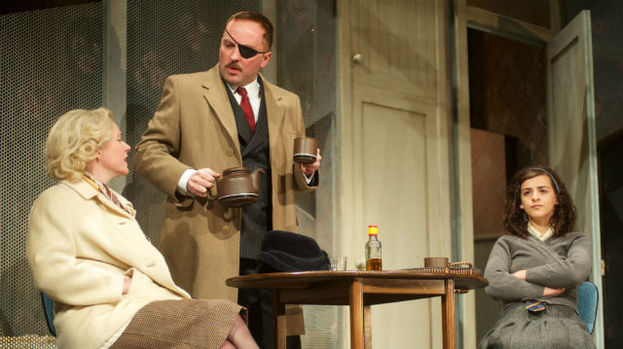 This isn't the first major revival of Shelagh Delaney's 'kitchen sink' classic about working class life in 1950s Manchester, since the playwright's death, in 2011.That honour goes to Sheffield Theatre who staged the play in October of last year.
That revival was warmly welcomed. And I'm sure Tony Cownie's production will be too. Not least, because he has followed in the footsteps of the great producer Joan Littlewood, who famously took a punt on this script from an unknown 18 year-old in the late 1950s, by making sure that the 'angry young woman' exploration of taboo subjects such as racism, homophobia, single motherhood, and life lived on the margins, is underpinned by a biting, dark, comic tone.
As in real life, there is plenty of laughter in the dark to be had here, and it gives the play an authentic feeling of watching real lives being led. Rebecca Ryan of Shameless fame stars as Jo, a white teenage girl in 1950s Manchester who gets pregnant outside of marriage by a black sailor who is soon gone. At the same time she is also trying to negotiate some sort of relationship with her selfish, brassy, booze- fuelled, man-eating mother, Helen, played here by Lucy Black.
First produced in 1958, for all the play's take on taboo subjects, (certainly taboo for a 1950s audience used to middlebrow, middle class fare), central to it, is the mother and daughter relationship on show.
In this, Cownie is well served by two excellent performances by Ryan and Black who share a real chemistry on stage here, both in their continuous war of words that at times are almost the stuff of vaudeville stand up,, and the school- of- hard- knocks, emotional wasteland of disappointment they both inhabit.
For all their quickfire, unsentimental bickering-"I never thought about you! It's a funny thing. I never have done when I'm happy, "- says Helen flippantly without pause near the play's end – there is no escaping the fact, that different as they are, in Jo's pregnancy and struggle, we are watching history repeat itself.
Elsewhere, Keith Fleming makes a decent fist of eye patch sporting, sleazeball Peter, the loadsamoney fancy man Helen runs off to marry, leaving her teenage daughter to fend herself in the process. But Charlie Ryan underplays the central sympathetic role of Jo's gay friend, art student Geoffrey. Completing the cast is Adrian Decosta as black sailor Jimmy.
Janet Bird's excellent revolving boarding house set places the piece fairly and squarely in the time and place Delaney was writing about- Salford in the late 1950s. And there is an argument to be had that A Taste of Honey is now a period piece, with Delaney's social battles laid bare far more grittily in TV soap operas.
Yet while Cownie makes no attempt to update or modernise the piece here, the issues raised back when Delaney was writing are still as relevant today, and the play still packs a punch.
Littlewood said of Delaney at the time she decided to stage the play: "She is the antithesis of London's Angry Young Men. She knows what she's angry about." Cownie and his cast give vent to that anger here with style, sympathy, and understanding.
A Taste of Honey, Royal Lyceum, Edinburgh, until Feb 9. Tel: 0131 248 4848