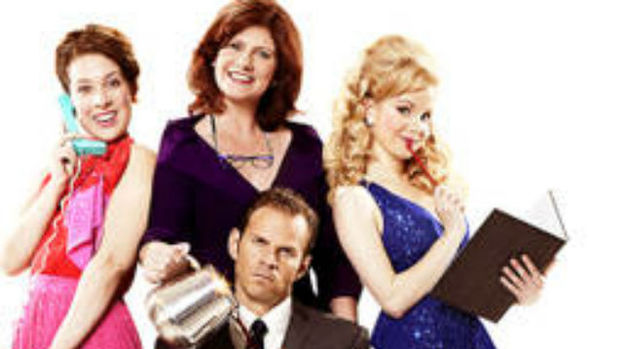 Yet another movie musical makeover along the lines of Sister Act and Legally Blonde, 9 to 5: The Musical, which is based on the hit 1980 movie starring Dolly Parton, Jane Fonda, and Lily Tomlin, arrives in Glasgow as part of its first ever UK tour.
The chief selling point for the show – which, annoyingly, went up half-an-hour late on opening night – is that Parton wrote the music and lyrics with Patricia Resnick, who co-wrote the original movie, providing the book.
Dolly fans will be delighted that the country music legend makes a special guest star appearance here – albeit by pre-recorded video message, saying that she hopes the audience enjoy the show and providing brief character outlines of the female leads as they take the stage.
For those not familiar with the movie, the plot, such as it is, revolves around three female office workers who have decided that they've had enough of their sexist, tyrannical boss, Franklin J Hart (Footballers' Wives star Ben Richards), and decide to take their revenge.
This involves kidnapping him, and taking over the offices of Consolidated Companies. Once our trio have their feet under the boss's table, they give the workplace a feminist makeover that includes job share opportunities. This makes it a better environment in which to work, thereby demonstrating that women are every bit just as capable of running things as men.
You'd like to imagine office gender politics have moved on leaps and bounds in the past 30 years. If Hart pulled the stuff he does here now – bullying; skirt chasing – he'd be facing a harassment charge quicker than you could say nine to five.
That said, discrimination, especially at the top, still exists, with more women hitting a glass ceiling in the workplace than their male counterparts. In that sense, the show's message, despite the hokum narrative that's used to deliver it, still carries relevance today.
As for "the girls" themselves, as Hart would call them, Jackie Clune is excellent as single mom, mother hen Violet, who has been passed over for promotion because she's not one of the guys, even though she's clearly female CEO material. Clune provides Violet with a capable, classy, sassy confidence that is only undermined by musical number *One of the Boys. Here, cigar in hand, the feminist message of the show is skewered by the suggestion that like 1980s female icon, Margaret Thatcher, to be a powerful woman you have to act like a man
Natalie Casey puts in a nice comic turn as newly divorced, mousey newbie, Judy, whose only previous work experience was as a homemaker. Casey's vocals aren't as strong as the rest of the cast but she still pulls off a showstopper in Get Out and Stay Out.
Bringing up the rear, though that may be a contradiction in terms, is double D Doralee, (Amy Lennox in warm, winning form in the role made famous by Parton,) with her rendition of Parton hit Backwoods Barbie a definite highlight on the night.
Elsewhere Richards seems to revel in sleazing it up as Hart, while Bonnie Langford manages to steal every scene she's in as his love-struck secretary Roz, nowhere more so when she gets hot under the collar (and stripped), in Heart To Heart.
That said not all the musical numbers are as strong as those mentioned, or opening and closing title track 9 to 5. Kenneth Foy's overly busy set, with scenery constantly being wheeled on and off, is distracting, and also looks a bit on the cheap side. But for all that the show provides plenty of bright breezy, colourful, feelgood fare.
9 to 5: The Musical, King's Theatre, Glasgow until November 17, then January 8-12. Tel: 0844 871 7648
People who read this story also read