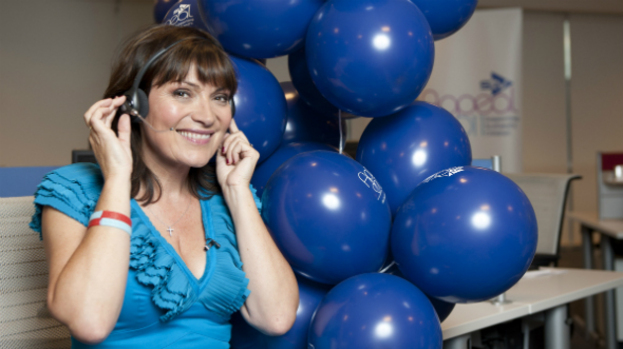 Presented by Lorraine Kelly, The Big Live is the culmination of months of fundraising. It will also tell the stories of some of the country's most vulnerable children.
Months of fundraising comes together tonight in The Big Live. From 7.30pm STV is given over to helping children in Scotland who live in poverty.
Last year the STV Appeal raised more than £1.2 million, let's see how we do in 2012.
Presented by Lorraine Kelly, the show brings together the reasons for the Appeal with the people who have helped raise money. Plus lots of other fun and games – all in the name of charity.
With live music from Amy Macdonald and Mánran featuring Michelle McManus, the two-and-a-half -hour show will be packed with celebrity appearances, including well known STV faces.
For details about how to donate and all the stories behind the campaign visit the STV Appeal 2012 site.
Lorraine Kelly, who is a trustee of the STV Appeal 2012, said: "Every penny that is raised by the STV Appeal will stay in Scotland and be spent on our children and young people affected by poverty. I would urge everyone to give what they can and to make a donation to help them and to change their lives for the better.
"Viewers will have a chance to see the fundraising challenges that celebrities have taken on to raise money, and the week of programmes will highlight some heartbreaking stories of children affected by poverty in Scotland, and how the money raised by the Appeal can make a real difference to these young people.
"On Friday's live show we will get to meet some of the many generous fundraisers, from across Scotland, who have made an incredible effort to raise money for children affected by poverty, and of course we reveal the total amount raised."
Deputy director of channels at STV, Elizabeth Partyka added: "The week of Appeal programming is a fantastic opportunity for STV viewers to see the reasons behind all the fundraising efforts and hear more about how the money will be spent to tackle child poverty in Scotland.
"The most amazing thing about the STV Appeal is that every penny we raise will be matched by the Scottish Government. This means that £5 immediately becomes £10. This doubles the impact that we can have in tackling this issue.
"We also believe it is an important opportunity for everyone at STV to give something tangible back to our viewers, helping to make a difference to the lives of children in Scotland."
All celebrities involved with STV Appeal have generously donated their time for free.
STV Appeal 2012: The Big Live Friday, September 7, 7.30pm, STV
Related articles